The Marriage Course - make an investment in your marriage
love. laugh. learn.
Over the course of seven sessions, couples can learn practical tools to help them invest in their marriage. The marriage course includes practical talks from Nicky and Sila Lee, real-life stories from other couples, break-out times for each couple to discuss the material together, a romantic meal and a fantastic atmosphere. There is never any group work and you will never be asked to share anything about your relationship with anyone other than your partner.
Some of the objectives for the course:
understand each other's needs
communicate more effectively
grow closer through resolving conflict
heal the ways you've hurt each other
recognize how your upbringing affects your relationship
improve relationships with parents and in-laws
develop greater sexual intimacy
discover each other's love languages
>>What is the Marriage Course
The aim of The Marriage Course is to help couples grow closer and build a healthy relationship that will last a lifetime.
>>Who is it For?
The Course is for any couple, whether you have been together for one year or 61 years and whether you feel you have a strong relationship or are struggling. Although the curriculum is based on biblical principles, you don't necessarily have to be a Christian or go to church to participate in the class.
>>Who teaches the Course?
The Marriage Course is a dvd curriculum developed by Nicky and Sila Lee, co-authors of The Marriage Book and The Parenting Book. They have been married for over thirty years, have four children and are on the staff at Holy Trinity Brompton - the London church that started the Alpha course.
>>Dates + Time
The next course begins on Thursday, September 22nd and runs for 7 weeks until Thursday, November 3rd. Each session begins at 7:00 PM with a light dinner and ends by 9:15 PM
>>Course Cost:
$20.00 per session or $120.00 / couple*
(includes workshop materials, dinner, coffee + tea)
*Scholarships available
Childcare: $5.00 per child / session
>>Session Topics
1. Building Strong Foundations
2. The Art of Communication
3. Resolving Conflict
4. The Power of Forgiveness
5. The Impact of Family – Past and Present
6. Good Sex
7. Love in Action
>>Frequently Asked Questions
1. What if we have a conflict on one of the Thursdays?
We understand that life can be hectic and conflicts can arise. To obtain the maximum benefit from the course, we encourage all couples to be present for each of the 7 sessions. If you do have an unavoidable conflict, we have loaner dvd's that are available for you to watch and return back to the church.
2. How much does it cost? What is included in the fee?
The fee is $120 per couple. This includes all course materials, meals for the couple, dessert, coffee + tea. Couples also have the option to pay in installments of $20.00 / session
3. Are scholarships available?
Please email regarding partial scholarships or payment plans.
4. Is childcare available?
Professional Childcare is offered during the Marriage Course for children ages 12 months – 7 year sold. To help defray the cost of the providers, we ask for a donation of $5/child per session. On the registration form, please indicate that you will need childcare.
5. How do I register?
Please register by clicking here. The course is limited to 12 couples.
6. My question wasn't answered here... What should I do?
Contact the church office (617.459.4001) or email the marriage course administrator ( )
Visit the Marriage Course Home Page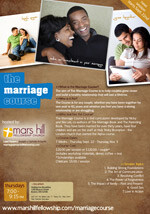 Download Flyer